Let Our Online Stylists Show You How to Rock Your Personal Style, All Day, Every Day.
Take our personal style quiz, then book an appointment with your stylist. They will show you how to make your wardrobe work for you, so that your daily looks can transition seamlessly from day to night—all for a time commitment of fifteen minutes a month!
---
But First, Coffee—And Clothes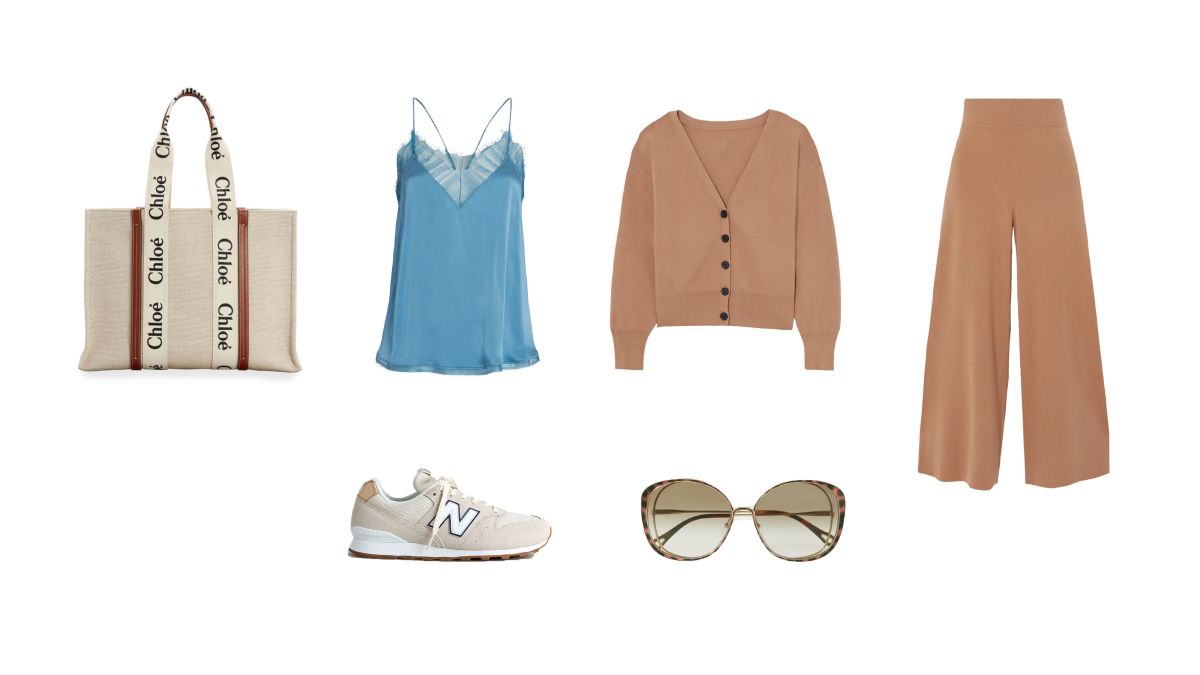 MORNING ERRANDS: Camisole + Athleisure Pant + Comfortable Shoes + Tote Bag
We think the best way to have a good morning is to start the day off right. Even if you're working from home, that means ditching your ratty old jammies and upgrading to some comfy but stylish athleisure wear. Your personal stylist can help you pick out new options or remind you to unearth that adorable pair you have crammed into the back of the closet. It's never too early to look great.
Then, your personal stylist will put together some looks that will work for your morning commute and early morning errands. Think layers, comfortable versatile shoes, and a purse with plenty of pockets and room. You might not have a lot of time in the mornings—so you don't want to spend a lot of time going over different options in the moment to see what works. That's where your personal stylist comes in—we can help you zero in on your go-to combinations, so throwing on those layers is a breeze, and you'll have extra time to grab a latte before work.
---
Afternoon Power Hours: Punch Up Your Look for Your 9-5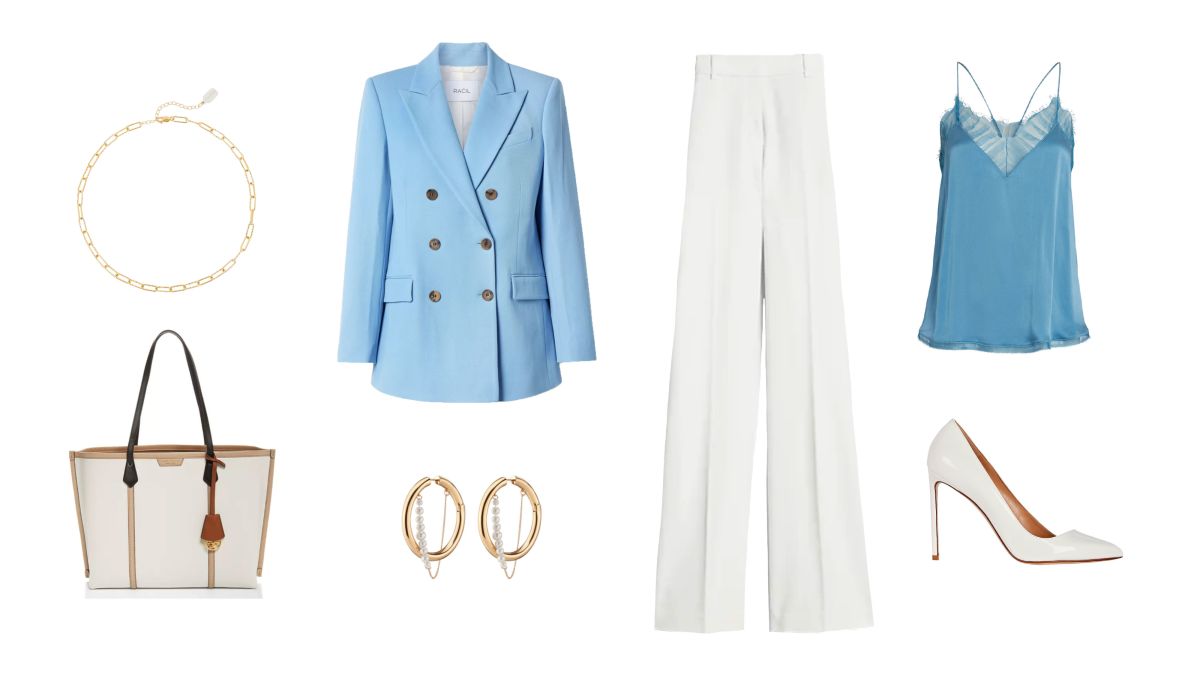 POWER SUIT: Blazer + Camisole + Skirt + Pumps + Tote Bag
Next, let's put together an outfit for work. Of course, we all want that power suit look that commands the room and really communicates what you're all about. But you don't want to achieve all that at the expense of feeling comfortable—and you don't have to. A recipe for success is wearing a look that makes you feel at the top of your game and comfortable in your skin. You're already working with some base layers that got you through your morning dash, so now we'll teach you how to style them with statement pieces that pivot your basics into a complete professional look. This part of the day is all about those accent pieces that add a little architecture to your look.
Whether it's a killer pair of shoes, that bold statement piece of jewelry, or the bag that brings it all together, you're looking for that one thing that makes your outfit a LOOK. Our stylists can help you find and leverage the accessories you already own or help you find that perfect piece to elevate your personal style.
---
Night Moves: Rock Your Dinner Date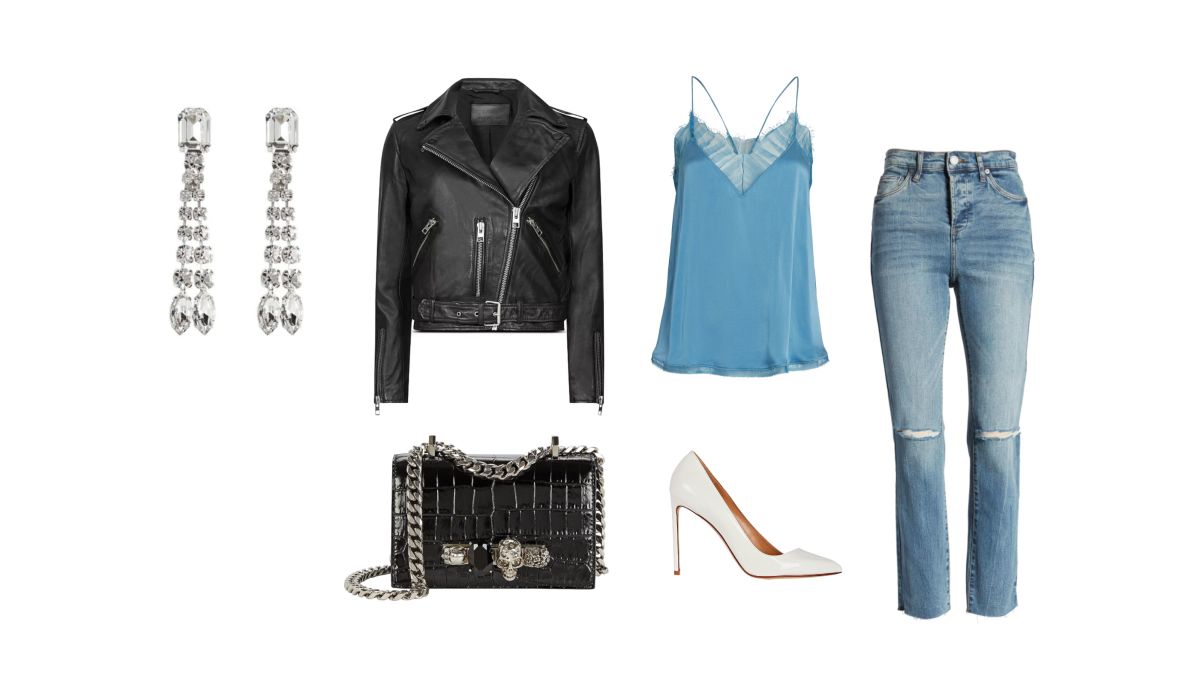 DATE NIGHT: Leather Jacket + Camisole + Pumps + Dark Skinny Jeans + Clutch
Time to peel back some of your layers and add in some fun. Our first tip? Don't be afraid to get a little bolder to show off your personal style.
How to easily create a night look from your work attire?
Swap out your pencil skirt for a pair of skinny dark jeans.
Make a statement and add a piece of jewelry that can make your outfit stand out. Style your outfit with a statement necklace or a pair of chandelier earrings to add a little flair and personal style to your everyday uniform. Not a fan of statement jewelry? Then try to play around with layering your delicate jewelry. Add a short heavy gold chain necklace with a dainty to achieve a bold, on-trend and effortless style. Stacking necklaces with different lengths and sizes will allow each piece to stand out on its own.
The right shoe is crucial here—think comfort, elegant, and eye-catching.
Last, ditch your work bag to a more compact cross-body or clutch, and you're good to go.
Sometimes date night outfits are the easiest place to get stuck—after all, the pressure's on to dress to impress! That's where our stylists come in—they can help you build some solid go-to looks that you can return to again and again while keeping your options updated with the season's best new looks.
---
Ready for The Stīl Trust to make your life easier?
Your online personal stylist from The Stīl Trust can help you create outfits for every part of your life—so you can look put together all day long, from morning errands to a dinner date. Our styling insights can help your mornings run more smoothly, helping you find those outfits that make you look on point, feel comfortable and, most importantly, feel like you. Next, we can help you sail through the workday with clothes that present you in your best light. Finally, our stylists will help you find those eye-catching evening looks that reflect your personal style. Sign up for one of our plans and explore how your personal stylist can up your style game in as little as 15 minutes a month.